19 janvier 2006
4
19
/

01
/

janvier
/

2006
20:12
Douglas Brodoff is an American artist. He has been living in Montmartre since 2000 and he is writing a children's book about his favourite subject: green men. Meeting with a child in a man's body.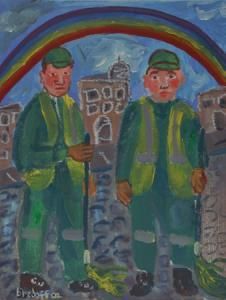 "La bohème is a romantic way of looking at the difficulties of my life", Douglas Brodoff said, a glass of Brouilly in his hand, at the Café des Artistes. "It's a reality for many people that I know: living with little and finding happiness."

Douglas was born in Manhattan, many years ago, but the time slips over him without making him any older. This man is a child. With a man's soft felt hat and a child's pair of woollen mittens linked with a string. It seems that he is living in Neverland. Or maybe in the World of the Wizard of Oz, one of his favourite books, with Scarecrow, Dorothy, Lion and Tin man. The kids who were doubtful about the existence of fairies at school were in big trouble with Douglas. "I was arguing with them because they couldn't give me the proof that fairies don't exist". Today, his whole story sounds like a fairy tale.
After his studies in the "left wing and experimental" University of Antioch, in Ohio, Douglas Brodoff worked in cinema, his childhood's "first love". When he was young, he used to go to the movies every day, sometimes nine times a day. He knew all the tricks to enter the cinema for free. "With my friends, we used to go at the back of the cinema, and then we walked backwards." His head is full of movies, directors, and movie stars. In New York, this "powerful city where you struggle for life every day", he was writing articles for famous cinema magazines.

But one day, he felt really sick, and had to go to the hospital. "When I came out of the hospital, I had a bill of $450 000. I was ruined. I came to France as a medical refugee. No matter what I say about the French, France saved my life."
Indeed, the man is not tender with the French people. "France is the country of "pas possible." But when you turn down the volume of "pas possible" a little bit, it becomes "c'est juste comme ça." Now, when a Frenchman tells me that it is "pas possible", I know that it is absolutely possible" he says, laughing.

In Paris, Douglas Brodoff became a painter. His main opus is a series of paintings of "the green men", the French street cleaners. He decided to paint them because he felt that those men were just shadows in the streets of Paris. "They are wearing the brighest colour, and yet, no one is looking at them." He started with four little paintings, and his friend Troy Henriksen, from the Art Galery W, rue Lepic, encouraged him to go on with the green men. His paintings were exhibited in the Mairie du XVIII° and had a lot of success. "All the green men that I had met during my work came to the exhibition, wearing their green uniforms. I was very touched."

Today, those men are part of Douglas's life. He is writing a children's book which tells the story of little Moussa, whose father is a green man. When Douglas tells the story of Moussa, the world around disappears. The story is full of colours, of garbage and of poetry.

What will Douglas do tomorrow? He has no idea. The only thing that counts is this land, somewhere over the rainbow, called Montmartre. Douglas's life is full of magic. And brooms…